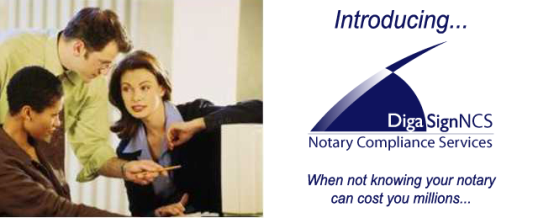 World Wide Notary developed DigaSign as an innovative, easy to use, Internet service that enhances the speed and efficiency in conducting notarizations. By utilizing the latest in patent-pending, secure technology, DigaSign enables corporate oversight of notarial events. With biometric signature and thumbprint capture, DigaSign provides undeniable verification of the identity of the signer and the notary.
With the recent mandates established by the National Mortgage Settlement, compliance requirements for foreclosures and bankruptcies makes DigaSign NCS an invaluable service.
DigaSign's NCS will provide a complete system to assist and maintain extensive servicing standards required by these compliance regulations regarding:
Validation of Notary's "Good Standing" qualifications with the State etc.

Maintenance of written records confirming that each notary has completed the required training.

Control of the subjects covered by the training and testing protocol for notaries.

Providing supervision and review of approved forms of affidavits, standardized forms of sworn statements, and standardized forms of Declarations prepared by or signed by an employee or officer of Servicer, or executed by a third party using a power of attorney on behalf of Servicer, to ensure compliance with applicable law, rules, court procedure, and the terms of this Agreement.

Availability of separate affidavits, sworn statements or Declarations to be used when one affiant does not have requisite personal knowledge of all required information.

Compliance with all applicable state law requirements regarding affidavits, sworn statements and Declarations etc.

Maintenance of records that identify all notarizations of Servicer documents executed by each notary employed by Servicer.

Completion of all information required by a form affidavit, sworn statement or Declaration is complete at time of execution.

Auto date when Affiants esign their signatures on affidavits, sworn statements or Declarations.

Provide regular reviews of remote data, of a statistically valid sample of affidavits, sworn statements, Declarations filed by or on behalf of Servicer in judicial foreclosures or bankruptcy proceedings and notices of default, notices of sale and similar notices submitted in non-judicial foreclosures to ensure that the documents are accurate and comply with prevailing law.
DigaSign's unique "Snapshot Audit" provides evidence of the documents at a moment in time and automatically generates the "chain of custody" journal. This feature enables multiple signers to esign and/or eseal the same document from multiple locations. DigaSign's "Tamper Sealed" PDF files prevents any alterations to completed files. If any alterations are attempted on the PDF file, the signature becomes invalid.
DigaSign documents look just like "wet ink" documents which makes acceptance of this technology much easier. With DigaSign, workflow processes are just like a paper environment but only better because all activities are date and time stamped from independent time servers and all activities are logged in an audit trail report. Users are guided through each process with easy to use "Wizard navigation".